The creation of Vandor Studio was inspired by the love for weaving and the belief that any home textile that is made of natural materials can help in creating a more harmonious space.
The studio offers small series of blankets, plaids, throw pillows and inserts, custom-designed rugs, woven kitchen towels, bread bags and various decorative home textiles, which you can also buy through the studio's shop and online store.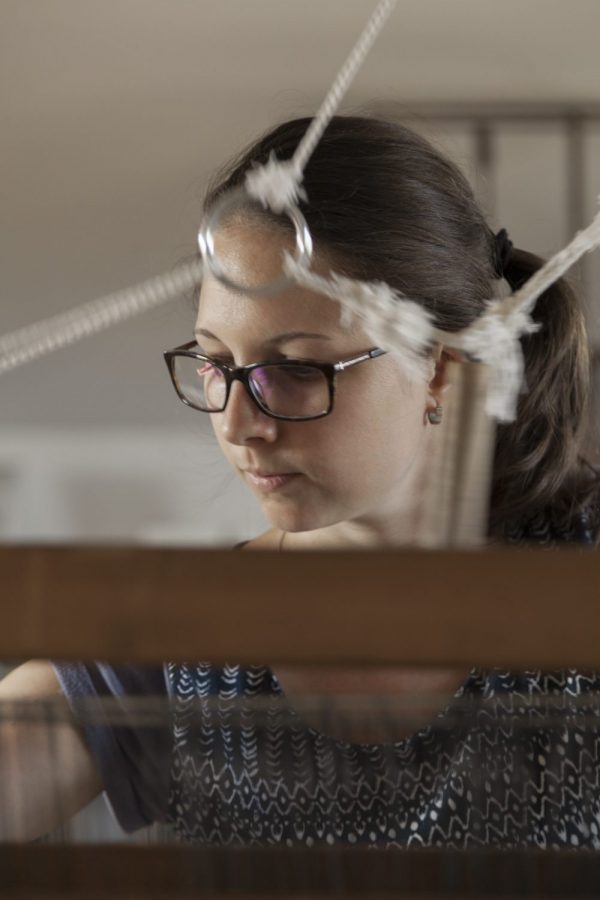 As a designer, my goal is to have each textile product represent value for their owners, to make their life more comfortable in the long run.
During the design process the first sample fabrics are made by traditional hand-
weaving in the studio. Then, after cooperating with weaving manufactories the final look of the home textiles take shape. As a result, the products are manufactured in small-scale manufactories that are based on the tradition of hand-weaving. You can also see the making of kitchen towels and decorative pillows at the studio's store in Kapitány street, Budapest.
The love of change
During product development, I constantly ask the question of: Which technological solution that has crystallized over the centuries is worth preserving? With which we can be responsible with our environment but also create beautiful and useful items?
In that spirit, the yarns used in making these textile products come from responsible sources and are also OEKO-TEX and REACH certified materials.
Traditions are important to me, so I try to acknowledge the expertise of partner manufactories in every way and fully support their development. In order to ensure the high quality of the products, they have been tested and thereby declared free of any harmful substances to health. Product labels and catalogs are made exclusively of FSC certified paper.
For more information on the guidelines, see the
INFO
section on the top.
Timeless textiles
I wish to bring back into fashion the durable home textiles, so that if one made by Vandor Studio becomes your favorite, it can be your companion for a long time. I base the durability of textiles firstly on the high-quality materials used and secondly on the high level of expertise in product design and development.
In pursuit of harmony
The relationship between us and our environment fundamentally influences our mood and well-being. I believe that our home should be an island to recharge our batteries, and if it's surrounded by long-lasting and reliable items, it will help us find harmony and happiness in our daily lives. On me, natural materials have the most positive effect, therefore I only use yarn from natural sources for the textiles I make for You. My intention with the textiles is to bring a close-to-nature experience and as such, tranquility to your home.
About Krisztina, the founder of the studio
As a textile design artist, I mainly specialize in designing woven textiles. Above all else, I create home textiles, however I also undertake custom orders for special woven fabrics, clothing textiles and the development of prototypes in my well-equipped studio.